House dog Argus, our Bräurup dachshund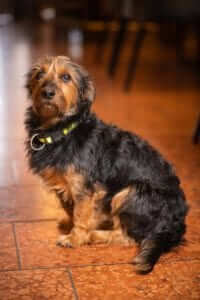 We would be happy to introduce you to the important cornerstones of our Bräurup team. They ensure that your vacation in our Hotel Mittersill is relaxed, enjoyable and unforgettable. Today we would like to introduce you to one of the most important Bräurup residents: our house dog Argus.
A loyal companion in all situations
For eight years, the little dachshund with what is probably the sweetest dachshund look has accompanied the Gassner family through thick and thin. He always watches over the hotel and also tolerates our guests' dogs. Thanks to his favorite feed from Fedor, which we can warmly recommend (for more information, see fedor.at ), the little charmer is fit and agile, always makes children's eyes sparkle and puts a smile on everyone's face. Argus loves being caressed, long walks and is happy to have one or two treats.
Not only Argus is looking forward to getting to know you soon. Visit us soon, by the way, also with children, skittles and dogs. The best thing to do is to claim it today non-binding vacation offer at!